Tomorrow I give birth to the final member of The Triad.
Was The Triad good or evil on "Charmed"?**
I can't remember...eh, either way. Everyone switched back and forth on that show so much...
Anyway, can you see how my brain is working lately, as in to say, not working at all.
My mom is here and today for my ultimate Mother's Day present she kidnapped not only my children but also my husband and made them go shopping! Ha!
I am supposed to be resting, packing my bag for the hospital and making guacamole for their return home. Yes, I make great guac.
Instead, I caught up on my e-mails, closed out my craft shop for my new mother hiatus and read celebrity gossip online.
In that order.
As for the impending birth, I am nervous. Nervous both because egad
ANOTHER
life I'm responsible for is joining the world AND doing so via a giant gaping hole in my belly.
Surgery freaks me out. I know it will be fine and I never have to do this again, but it still freaks me out. I will have to force myself to sleep tonight. I had MAD trouble sleeping last night and ended up dreaming about being married to Adam Sandler. Oy vey. Niiiightmare!
Where was I going with this?
Oh, I have no idea.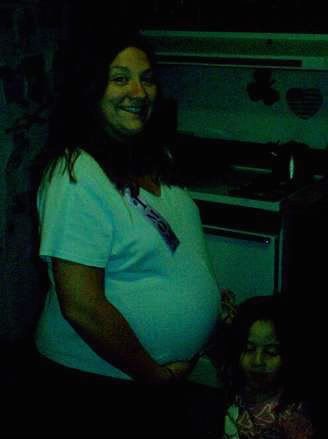 I'll have someone snap a final preggo pic and post it tonight for the most official "before" pic possible. You will not get a picture of me at 5 am heading into the hospital. That's just not going to happen. What little pride and dignity I have left won't allow that to happen.
The lighting is not great, but here is the last pic!
And then tomorrow evening, the baby update will be up! Wow! Tomorrow!!!!!!!!!
Yipes.
I better go clean something, just for good measure.
**You know me, I can't live not knowing something. Google reveals The Triad are evil demons.