Yesterday we had a teacher home visit from Elizabeth's school. They say they're not checking out your house, but come on. They must be!
I cleaned like crazy. The house looked very nice and the home visit was smooooooth.
Afterwards, I loaded the kids into the car so that we could make the hour-long drive to Holbrook, Ariz. the Navajo County seat. We had to go there so I could get copies of all the kids' birth certificates. The school needs a copy to make sure I haven't smuggled illegal immigrants into their program.
I could have done it over the interweb, but it would have cost me upwards of $40 for each certificate. Times three kids = way too much money. AND it takes like 5-8 weeks to get the dang things through the mail.
To go in person is a long drive, but I'd get them in hand that day AND it only costs $10 a copy. NO brainer right.
So we set out for Holbrook at around 11 am.
Here's the drive from north of Snowflake to the fantastic hustling bustling big city of Holbrook....
Ha! Tricked ya! It's a whole lot of hot nothing. Well, some cows.
We got to the office at 10 minutes to noon, which was great because they don't process anything between noon and 1 pm. Lunch time!
I filled out the applications, and the gal printed the certificates out in less than 5 minutes. Easy peasy.
Oh, but wait....
I go to write a check for the $30. She immediately snatches the certificates back to her side of the desk.
"You can write a check, but then I have to hold these until it clears. Five weeks."
"FIVE weeks??!?"
"Five weeks."
OK. Shit.
I tell her I'll go get cash and come back. She puts the certs in her drawer and shuffles us out of the office and runs out the back door to her lunch break.
Shit!!
Now I have to go get cash and then waste an hour. In Holbrook.
Christina is laughing her butt off right now.
So yeah, what to do.
I went and got cash from the Chevron ATM and drove BACK to the offices, parked my car and discovered that we were one block away from the Navajo County Museum. Sounds like fun!
Here's the building itself.
Kinda old and cool no? It used to be the county courthouse. The first one ever. It also used to house county offices. There was a big famous hanging there once. Now it's a museum and the chamber of commerce.
The kids played jail in a cage that was outside. Better get used to those bars kid.
Inside was a REAL jail, the first Navajo County jail. It was friggin creepy! I went into the jail and I was totally creeped out instantly, the kids ran out screaming.
Then we saw an old-timey model of a post office. That was pretty cool also.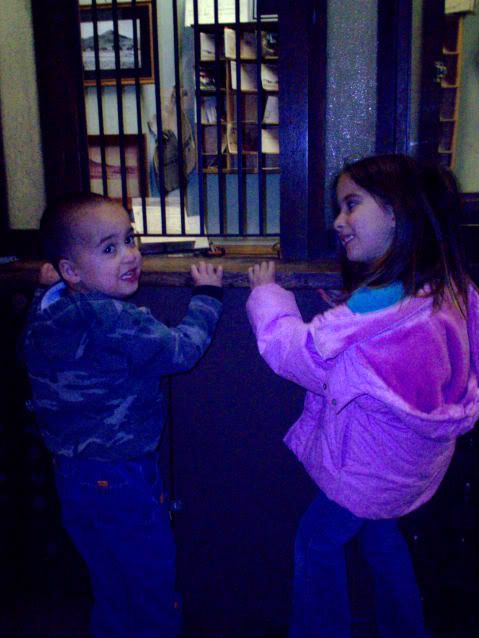 There were all kinds of exhibits, a real chuck wagon, a replica of a early 20th century western kitchen and living room. It was pretty neat. Even the kids, who normally couldn't care less about that sort of thing, thought it was awesome.
Being that it's Holbrook, the gateway to the petrified forest, there are dinosaurs and petrified wood and geodes and all kind of rock shops all over the place. This one was right outside the museum. I hit my head on it's scary claw. Dinos ARE dangerous!
Of course, we had to go visit the giant dinos as well.
We walked around town a bit, killing time. We happened to stroll by a house with a giant pit bull in the front yard that wanted to kill us.
Dylan screamed like he WAS getting eaten. Then he froze. I had to drag him, the baby in the stroller and his sister away from the insane barking dog. It was another block before the dog shut up and Dylan stopped screaming. I seriously thought the cops would come.
After that fun experience, we went back to the health office, paid for the certs and left. Bada bing bada boom. In and out.
On the way home I decided to go through Heber-Overgaard instead of Snowflake/Taylor. Yes, the punctuation matters.
H-O is about 40 or so miles west of Holbrook. Here is the drive between the two.
I swear this is not the same picture as before! There's just a whole lot of nada out there. Look to the left of the road, nada. Look to the right, nada!
We did come up on a pretty nice view of the rain coming up the rim.
Other than that though....nada. Nada damn thing out there.
No wonder my mom calls it the moon.
By the time we got home it was coming up on 3 pm. The actual procuring the birth certificates took a total of 10 minutes. Twenty if you count the time it took me to drive to get cash from the ATM and back.
And THAT is the joy of living in a rural county!